Laser scanning systems enable the dynamic positioning of laser beams using moveable optics. Typical applications of such systems are:
laser material processing
laser projection
3D object scanning
barcode readers
The software VirtualLab Fusion provides ray tracing as well as physical optics based simulation techniques for laser scanning systems. Typical lens aberrations like field curvature and distortion can be computed. It is also possible to perform a highly precise investigation of the beam size and beam profile including diffraction effects. The combination of VirtualLab's parameter coupling tool with the flexible positioning concepts allows the simulation of very complex setups of scanner optics. Design and tolerancing of laser scanning systems are enabled by the parametric optimization and parameter run tools of VirtualLab Fusion.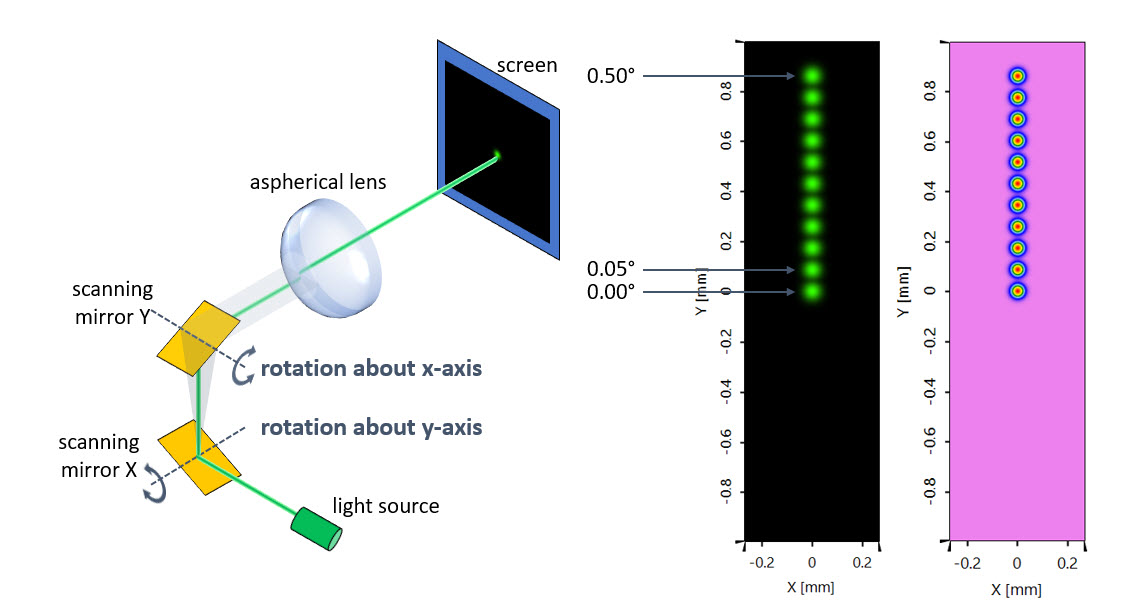 Selected Use Cases
Find detailed technical information in following selected samples:
A scanning system consisting a dual-axis galvanometer and an aspherial focusing lens is modeled, with the rotation of the mirrors taken into simulation as in the practical case.
Related Information
We invite you to download a trial version of VirtualLab Fusion. Please contact our experts for advice.
Find other samples including technical background information in our download area.