Virtual and augmented reality glasses have brought forth a series of fresh challenges for optical designers. Producers of these high-tech glasses are supported by LightTrans. VirtualLab Fusion, with its Fast Physical Optics approach, offers the necessary tools to undertake the modeling and design of such devices.
There is no doubt that AR is a booming topic – even two years after the launch of the smartphone game Pokémon Go, people are walking around the city to hunt Pokémons. Beyond gaming apps, new innovative applications are constantly being developed with the aim of making people's daily lives easier. And AR is thriving in the industry and trade sector as well.
In 2018 we provided our VirtualLab Fusion modeling tools in XR. In 2019 we will add design techniques which ease also small enterprises that do not have the same resources as the big players to enter this booming market. VirtualLab Fusion enables companies of all types to develop high-quality optical designs in this area.
Visit our Website to find out more about our Applications:

Are you interested in reading the whole article? Just use the link to download the magazine: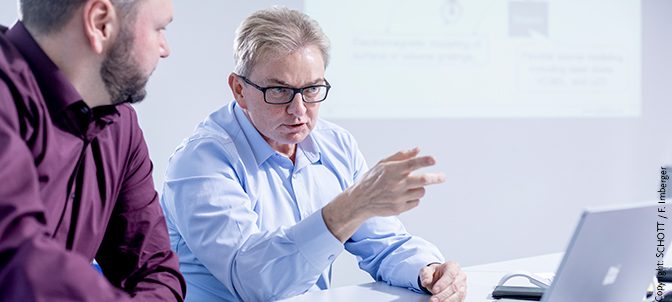 Frank Wyrowski explains:

"We see ourselves as trendsetters in unleashing the power and benefits of physical optics in optical engineering. Our VirtualLab Fusion software allows us to simulate light propagation in modern optical systems, by combining various simulation models on a single platform."
About the cooperation
Currently LightTrans collaborates with SCHOTT in a joint project. Together we would like to find out how glass wafers for AR applications can be further improved. SCHOTT has invented new high-index glass wafers, which attain an unprecedented level of sharpness, field of vision and weight. SCHOTT RealView™ wafers double the total reflection angle of conventional glass wafers. Our Fast Physical Optics software supports companies like SCHOTT to make such developments in AR possible.